This article by Lauren Tappan:
Japanese scientists have successfully completed the first skin-to-eye stem cell transplant in humans. The procedure managed to partially restore the vision of an elderly woman suffering from age-related macular degeneration (AMD).
The results of the procedure, which took place in 2014, were shared at the 2016 conference of the Association for Research in Vision and Ophthalmology in Seattle earlier this week.
Scientists took a small 4 millimeter (.15 inch) piece of the patient's skin from her arm and modified its cells, effectively reprogramming them into induced pluripotent stem cells (iPSC), Science Alert reported.
Because pluripotent stem cells have the capability to differentiate into almost any type of tissue within the body, the skin cells taken from the arm could be repurposed into retinal tissue.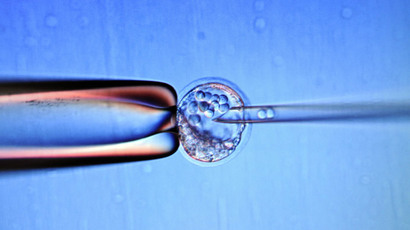 For More Info:
From there, the cells were developed into retinal pigment epithelium (RPE) and cultured in the lab to grow into an ultra-thin sheet. This sheet was then transplanted behind the retina of the patient.